About
Mission
"I think, simply put, my family loves food. And we love people. It's all about bringing people and food together." – Frank Pfisterer.
For 16 years, Shore Restaurant Supply has made it their business to offer clients the knowhow, attention, and enthusiasm of a small business while providing highly competitive prices and more services and products than most larger companies. With three generations of foodservice industry experience and strong roots in the local marketplace, the family owned business strives to be the go-to resource for food and beverage businesses in the Tristate Area but still prides itself in its accessibility, visible ownership, and hands-on philosophy.
History
Growing up in Staten Island, New York, Shore Restaurant Supply co-founder, Sonny Pfisterer, gathered decades of restaurant knowhow working for the family business, The Pickle Works.  Sonny started out working beside his father, delivering glass jars of staples like pickles, olives, mustard, ketchup, and pig knuckles out of the back of a truck in the five boroughs.
The original store in Staten Island was a one car garage heated by a pot belly stove.  Inside, large wooden barrels of pickles and other items filled the place and product was packed out into gallon jars to head out to the reaches of New York City.  In those days, the jars were always saved by customers, picked back up by the Pickle Works and carefully washed by hand, refilled, and sent back out into the marketplace.  These were the days of the milk man and the guy who came around to sharpen your scissors; life was more simple and certainly so was business.  The original Pickle Works invoices were only the size of a restaurant "dupe" and had the complete offering of the company pre-filled – all ten or eleven items of it.
After graduating from college, Sonny began working at Pickle Works full time and helped to expand the business by introducing paper products and other supplies to the company offerings.  Today, Pickle Works, still in its same location since the 1920s, is now a broad line foodservice distribution company with pickles comprising less than 1% of the business (and pig knuckles comprising even less).  
After 35 years working with his family, Sonny left the family business and opened a new venture with his wife Angela near their home at the Jersey Shore.  Sixteen years ago Shore Restaurant Supply opened its doors, perhaps with not as modest of a beginning as the Pickle Works, but with a 25,000 square foot warehouse three miles from the jersey coast line.  Today the business is run by Sonny and his son Frank (along with an incredibly hard working team) and now carries over 20,000 products – from 50 pound bags of flour to the industrial mixers needed to mix all 50 pounds.  Of course, Shore does, in fact, still sell pickles.
Below: Photo of Sonny's father, Frank Pfisterer, a.k.a the "Kraut they talk about", circa late 1950s.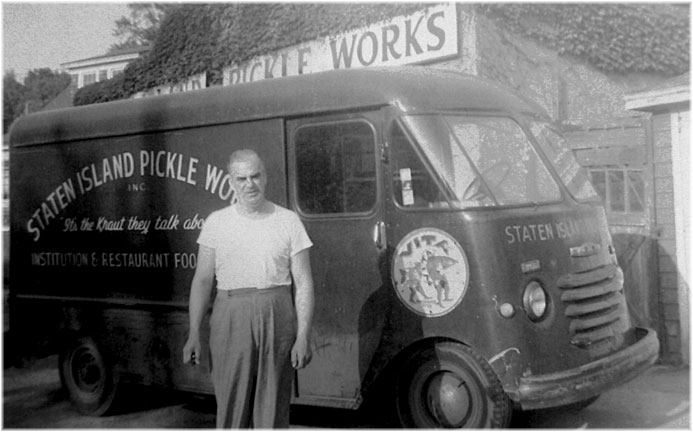 Below: Co-Founder Angela's father and grandfather's butcher shop / meat market in Staten Island, NY (which was not far from Pickle Works).